Date of Birth

16 October 1948, Trichy, Tamil Nadu, India


Birth Name
Hema Malini R. Chakravarty
Nickname
Dream Girl
Height
5' 6" (1.68 m)
Mini Biography
Hema was born in the Tamil-speaking Chakravarthy household on October 16, 1948 in Ammankudi, Tamil Nadu. Her dad's name is V.S.R. Chakravarthy and her mom, Jaya, was a film producer. She was enrolled in the Chennai-based Andhra Mahila Sabha.
After performing as a dancer in a 1961 regional movie, she was rejected by Tamil Director, Sridhar, during 1964 when she first attempted to act, on the grounds that she had no star appeal. Sridhar was proved wrong when Hema persisted, debuted opposite legendary showman, Raj Kapoor in 'Sapnon Ka Saudagar' just 4 years after her rejection.
Thereafter there has no been looking back for this attractive Libran, who went to star in close to 140 movies; who also produced and directed two movies, and also directed a TV serial 'Noopur'.
After turning down marriage proposals from Sanjeev Kumar and Jeetendra, she met with hot fellow actor, Dharmendra, both were attracted to each other and wanted to get married. Dharmendra, who was already married to Prakash Kaur, and had two sons, Sunny and Bobby, could not marry Hema as Prakash refused to divorce him. According to the Hindu Marriage Act, a Hindu cannot marry a second time while the first wife is still alive. Dharmendra belongs to a Arya Samaj Hindu Punjabi Jatt family.
On August 21, 1979, both Hema and Dharmendra converted to Islam, changed their names to Aisha Bi R. Chakravarty and Dilawar Khan Kewal Krishn respectively, and got married in accordance with Islamic rites. Three years after their marriage, Hema subsequently gave birth to Esha and then later to Ahana. Esha is an actress in her own rights. The trio, well proficient in the arts of Bharatnatyam dance form, have performed together at a number of dance events and concerts.
Hema is a member of the right-winged Bharatiya Janata Party, and became a member of the Rajya Sabha, the upper house of the Indian Parliament.
She was amongst the first actresses to wear bell-bottom and shirts in Hindi movies, and is also amongst the few who have kept their word of not wearing any revealing outfits in public. Hema, who is also called 'Dream Girl' continues to act in movies, with her latest being 'Baabul' in 2006.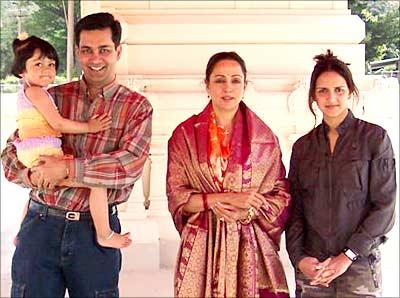 Main Features »
Hema Malini, the quintessential 'Dream Girl' of Hindi cinema has truly nurtured a dream, and followed it to its realization. After being unceremoniously dropped from her first Tamil film as the director felt that she didn't have 'star quality', Hema signed the Hindi film she was offered opposite Raj Kapoor. Just eighteen, she soon conquered the hearts of all moviegoers with her beauty, grace and charisma. From Johnny Mera Naam to Sholay, from Meera to Baghbaan, she has portrayed a diverse range of characters that will always remain a part of the film legend.
Raj Kapoor, Dev Anand, Sanjeev Kumar … she worked with all the leading stars, but it was with Dharmendra that the chemistry on screen was palpable. The special bond she shared with Dharmendra set the rumour mills buzzing but defying all conventions, Hema married her Jat hero in May 1980. Striking a perfect balance between her personal and professional life, Hema maintains a dignity about the little world she shares with daughters Esha and Ahana.
This intimate portrayal, the first authorized biography, by Bhawana Somaaya is a result of her long years of association with Hema as a film journalist and critic. Hema speaks to her more candidly than ever before about her life, with and without Dharmendra, her children, her mother and her twin passions of dance and acting.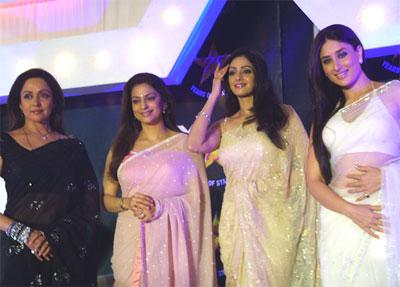 Spouse
Dharmendra (2 May 1980 - present) 2 children
Trivia
Mother of Esha Deol and Ahana Deol. Step-mother of Sunny Deol and Bobby Deol. Daughter of Jaya Chakravarthy.
The second South Indian actress after Vyjayanthimala to become a major Hindi film star. Ironically, Hema's career almost ended before it began. Her first director threw her out of a Tamil film he was directing, saying she had no star appeal. Hema resolved she would make it big where it mattered the most: Bollywood.
Hema Malini began her film career opposite Raj Kapoor in Sapnon Ka Saudagar (1968) where she became labeled the "Dream Girl". She had a glorious reign as a leading actress during the 70's, even winning the Filmfare Best Actress award for Seeta Aur Geeta (1972), but in the early 80's, she decided to concentrate on 'character' roles, often those with feminist undertones.
Both actors Jeetendra and Sanjeev Kumar proposed marriage to Hema, but it was Dharmendra, with whom she formed a hugely successful on-screen couple, that won her hand in the end. She defied the conventional norm at the time by becoming his second wife and continuing to work after having children.
In an effort to re-establish herself as a classical dancer (she is an expert Bharatnatyam dancer), she directed TV serials such as "Noopur" (1990) and "Women of India" in 1996.
Hema Malini was awarded the 'Padma Bhushan' in 1999 for her contribution to Indian Cinema.
Born in the village Ammankudi, located in the District of Trichy, Tamil Nadu, to V.S. Ramanujam Chakravarti and Jaya Chakravarti.
Set up a Natya Vihar Kalakendra, an institution dedicated to create, spread and present the age old Indian mythological themes from the epics like Ramayana, Mahabharata and other ancient scriptures through the medium of dance.
In 2003 was nominated to the Rajya Sabha (Parliament of India), serving on the Committee of External Affairs as an MP. In 2004, actress-turned-politician Hema formally joined the BJP (Bhartiya Janata Party).
Served as Chairperson of the National Film Development Corporation (NFDC) from 2000-03.
Converted to Islam, changed her name to Aisha Bi R. Chakravarty, and married Dilawar Khan Kewal Krishn Deol alias Dharmendra on August 21, 1979.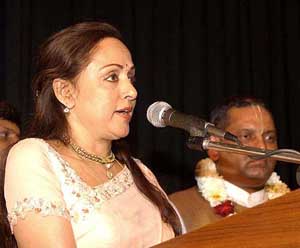 Veteran Bollywood actress Hema Malini addresses the gathering at the inauguration of the Bhagavadgita experience at the Iskcon Hinduja Glory of India Vedic Museum in New Delhi on Thursday.




» Hema Malini is a dedicated Bharatnatyam artiste, South Indian classical dance. Her two daughters have trained in the related Odissi school of dance, and the three have performed together at several charity dance concerts.

» Top Bollywood stars like Sanjeev Kumar and Jeetendra proposed marriage to her, but she married Dharmendra(who never divorced his first wife) and they have two children:Ahana Deol and Esha Deol (born 1982), who is a successful Bollywood actress as well.

» In 2005, on the TV show Koffee with Karan, she said that she taught her daughters Tamil very well, but had to hire a tutor to help her daughter Esha Deol learn Punjabi for a film. Apparently, Esha's father Dharmendra, whose mother tongue is Punjabi, converses with Hema and his daughters only in Hindi and English.

» She is the daughter of Shrimati Jaya Chakravarthy who was a film producer. Shrimati Jaya Chakravarthy passed away on June 11th, 2004.

» She and her husband have been involved in politics, as members of the Bharatiya Janata Party (BJP). She was elected to the Rajya Sabha, the upper house of the Parliament of India, with the support of the BJP. In February 2004, she joined the party officially. With her film career less hectic, she has been an active member of the party, attending party meetings and rallies and campaigning for the party through various elections.

» 1973 - Filmfare Best Actress Award, Seeta aur Geeta

» 1999 - Filmfare Lifetime Achievement Award

» 2000 - Padma Shri, India's fourth highest civilian award from the Government of India.

» 2003 - Star Screen Award Jodi No. 1, Baghban (with Amitabh Bachchan)

» 2003 - 'Lifetime Achievement Award for Distinguished Contribution to the Movie Industry' at the 'Bollywood Awards' scheduled at Trump Taj Mahal Casino in Atlantic City, New Jersey, on May 3.