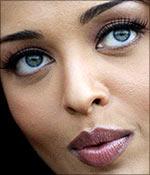 They come in various shades and sizes. They can twinkle with mischief or shimmer with unshed tears.
They are, ladies and gents, eyes, the windows to the soul. And nowhere are these twin orbs more important than in the world of showbiz, where just a look can speak a thousand words.
Some of the best cinematic moments consist of unspoken glances, and haunting eyes.
And it seems our actresses are quite gifted in this department.
Which actress, do you think, has the best eyes?